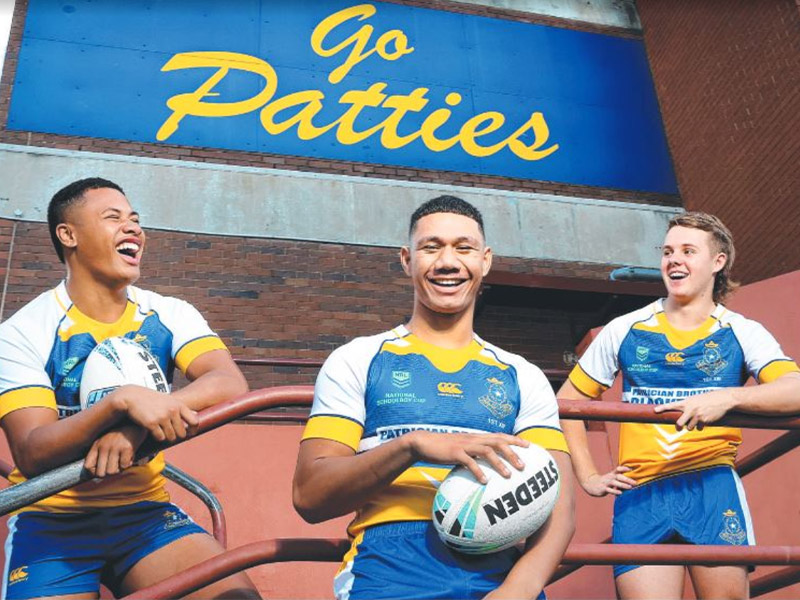 (From left) Patrician Brothers College Blacktown students Finau Latu, Zedrick Tupulua and Cameron Robertson. Picture Credit: Toby Zerna
Patrician Brothers College Blacktown is renowned for producing top-tier rugby league players - and the new generation is ready to make its mark.
The schoolboys' juggernaut will kickstart its 2022 Peter Mulholland Cup campaign against Endeavour Sports High on Wednesday, and the game will be exclusively livestreamed by The Daily Telegraph.
The Western Sydney rugby league school is where Penrith Panthers stars Jarmoe Luai, Stephen Crichton and Sean O'Sullivan first linked up as students.
Now the nursery for NRL talent is back to show off its schoolboy stars.
Coach Noah Meares said the "NRL Schoolboys Cup is synonymous" with Patrician Brothers, after winning weight cups - including two out of the past three seasons - and the 2012 national championship.
"We have bow who come from all over who want to come to our school because they know about our history and culture and want to be a part of it," Meares said.
"They also know that coming here not only gives them an opportunity to play in the competition, but gives them a great opportunity to move into the NRL and pathways systems.
We have the most former students who are playing in the NRL, so the cup means a lot to our school and our boys, and that's why they always put their best foot forward.
"In fairness, it seems like it means more for the boys to play for their school than it does for their club or rep club some of the time"
After last year's competition was scrapped midway because of COVID-19, Patrician Brothers remain the reigning champions, after defeating Westfields by six points in the 2020 grand final.
And Meares said after two years of disrupted seasons, his side would come out fighting this year, determined to chase back-to-back championships.
"We had a very good team in 2020 and last year. Even though it was disrupted, we were again in a really good spot," Meares said.
"We had a very young team last year - a lot of them were 16 - so we've had players come back a lot more experienced and mature, which will only work in our favour."
Patrician Brother's quest for back-to-back titles won't be easy, and it begins on Wednesday against a strong Endeavour Sports High.
Meares said the side from the Shire was known to be "fit, fast and play a well structured game of footy".
"Endeavour is a very well drilled team, and their fitness tends to be the difference between them and other sides," Meares said.