Patrician Brothers' College, Blacktown, is a friendly and caring community where each person is challenged to grow in a Catholic Environment.
We recognise that such growth is a life-long process involving the individual's spiritual, emotional, moral, intellectual, social, interpersonal and physical development. This Catholic community strongly believes in and demonstrates the Gospel values of faith, justice, tolerance, hope, honesty, service, trust, forgiveness and respect. Our community also values the Patrician ideal of friendliness and love of all creation, especially the poor.
We strive for excellence and foster a love of learning. By encouraging staff, pupils and parents to work and pray together we build a community where "Christ Reigns".
Why choose Patrician Brothers' College?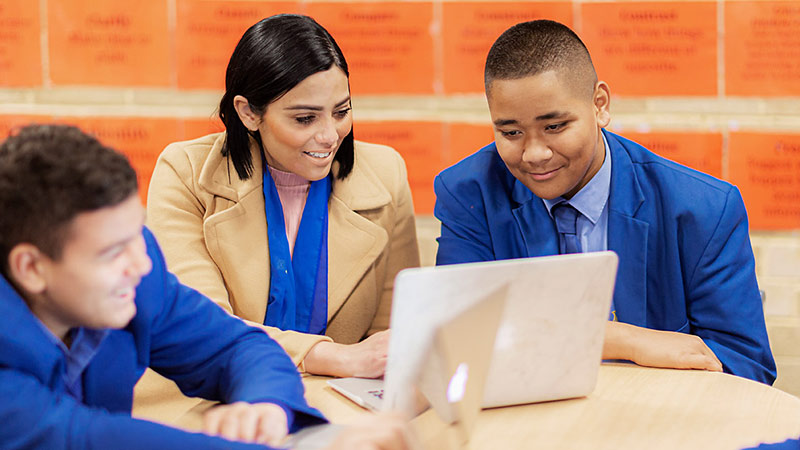 Passionate and Dedicated Educators
Whether teaching or in the office, the dedicated staff at Patrician Brothers' College are part of a system committed to transforming the lives of every student, every day.
LEARN MORE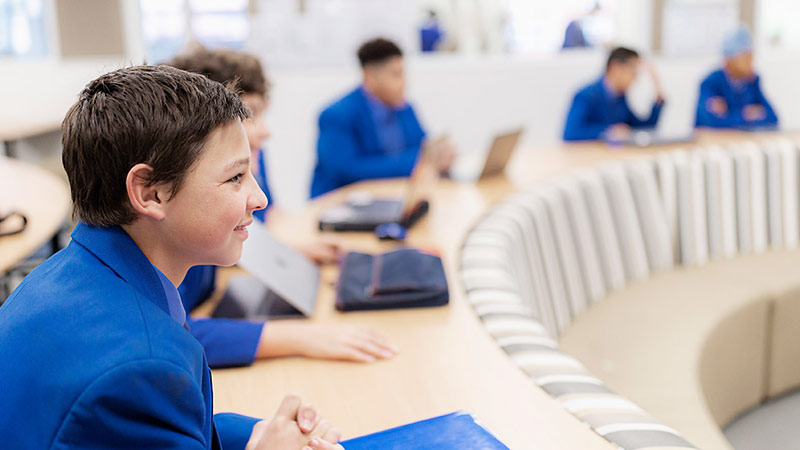 Modern Learning Facilities
Patrician Brothers' College offers an extensive range of facilities to support, facilitate and encourage all our students in their academic, co-curricular and sporting ventures.
LEARN MORE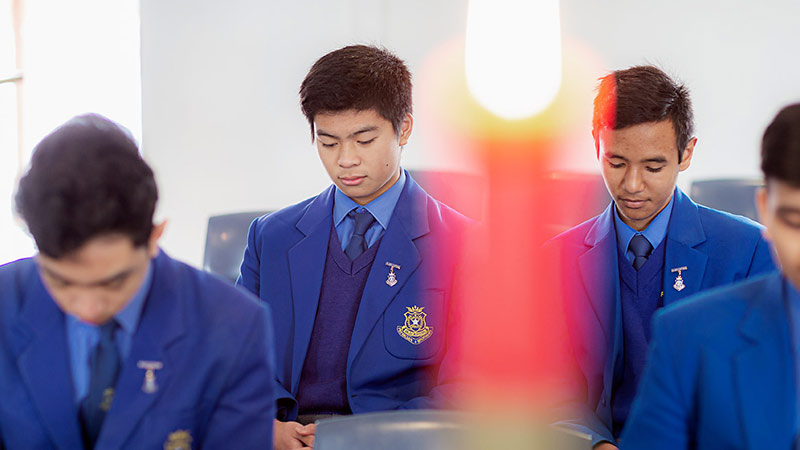 Spirituality
The College aims to provide opportunities for our boys to enhance their personal spirituality while fostering the belief that they can contribute significantly both to society and to the Church. We are a prayerful community, which is supportive of our members' successes and we rally to their aid in times of difficulty.
Our College has a significant tradition of supporting and enhancing the spiritual and faith dimensions of the students. Opportunities are regularly made available for both public and private responses and worship. Thursday morning masses, whole school liturgies and the senior retreat encourage the students in both public and private reflections.
Spirituality in Action is actively supported. Community service through St Vincent de Paul Youth Group, Missions and Social Justice programs are encouraged as areas where students can offer service to the wider community.
LEARN MORE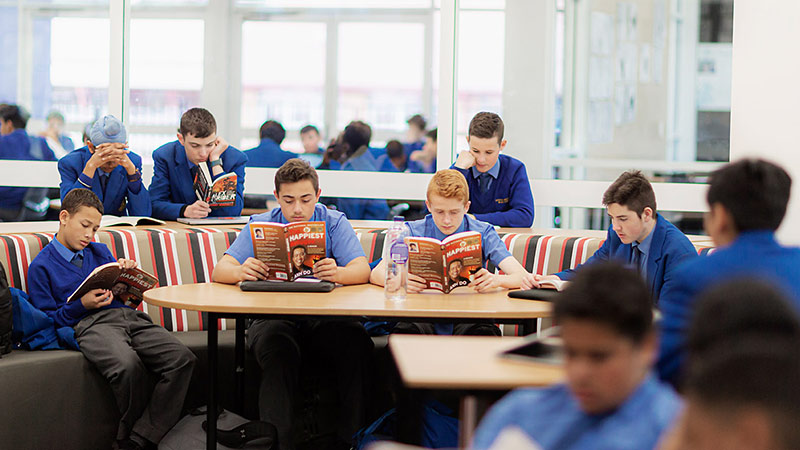 Literacy
Boys have specific literacy needs. By years 7 and 8 many boys have become disenchanted with reading as an enjoyable activity. Some stop reading and commence a cycle which sees their comprehension of reading material rapidly decline. The English KLA at Patrician Brothers' Blacktown has acquired extensive sets of class novels which interest, amuse and challenge teenage boys. We have involved and trained senior students and parents in effective support at home and we have established the use of text types across all subjects across all years. The annual Principal's Writing Challenge across all years focuses our attention on reading and writing.
eLIBRARY
LEARNING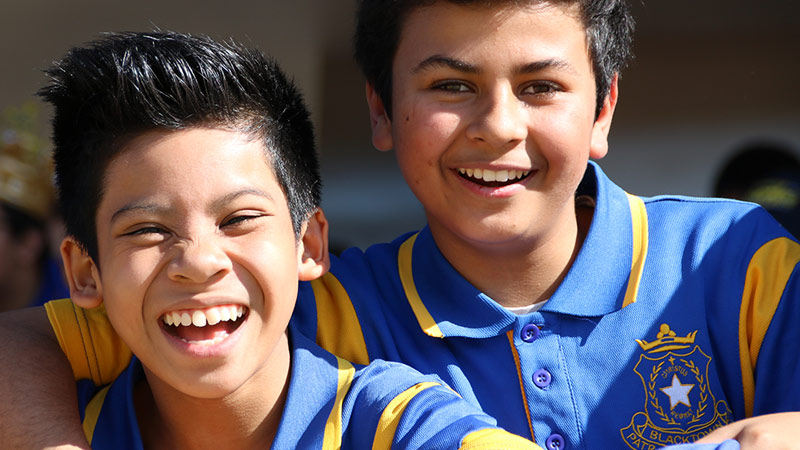 Pastoral Care
Pastoral Care is a priority in our community. Students and staff enjoy coming to school each day and there is a community spirit of friendliness and cooperation. We have a finely tuned Pastoral Care system which includes homeroom teachers, year co-ordinators and a school counsellor. Our Anti-Bullying Policy is complemented by Restorative Justice practices.
LEARN MORE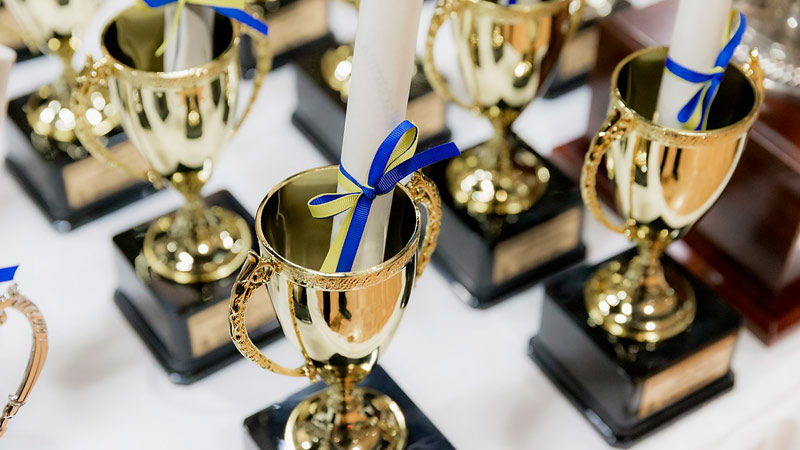 Community Celebration
Our timetable is structured so that we have an assembly every second Tuesday which allows us to pray together in a special way and then acclaim the good things that have happened in our College. Academic and cultural achievements, community service and sport are acknowledged and presentations made. We ask our students to get involved in the activities of the College. There is far more to school than an academic education.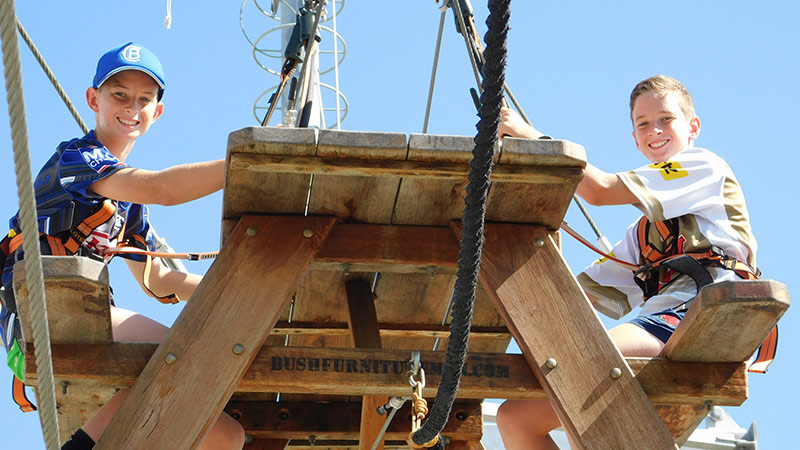 Educating Boys
Boys need to be challenged, encouraged and enthused by their learning environment. At Patrician Brothers' Blacktown we have become adept at designing and modifying programs which capture the interest of adolescent males.
Adolescent boys become very sensitive to criticism. Quite often they feel that they don't wish their work to be put up for public comment and often disguise this fear with bravado – "It's not cool". We are very aware of their sensitivity and so we encourage our students to be confident that their creations have merit and real worth. In particular, we encourage them to respond sensitively to issues which affect them and their own world. Our students learn to be reflective.
LEARN MORE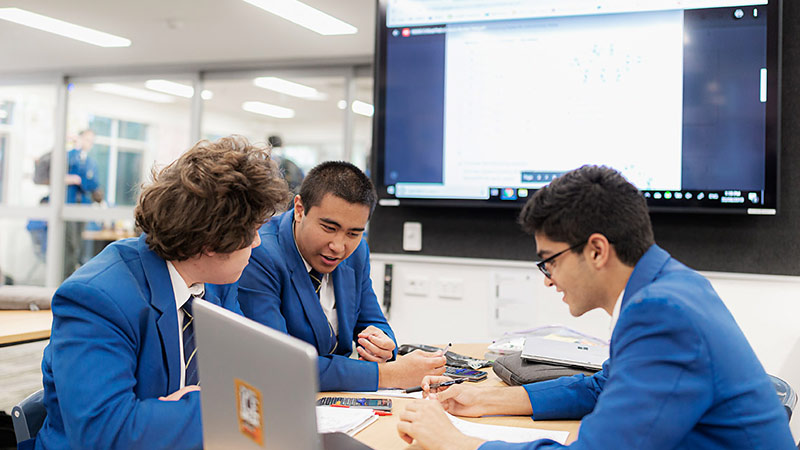 Curriculum
Schools the size of ours devoted to educating boys have the advantage of being able to offer the full range of subjects which engage the interest of boys.
Our senior students have continued to challenge themselves and have been supported by their teachers to strive for excellence. The results achieved by the students and their ATARs have enabled them to enter medicine, law, optometry, forensic science and computer science and other elite university courses.
We are heartened by the number of students who have chosen to enter the workforce after completing Year 10 or Year 12, and have then opted to continue their education through part time study.
We see education as empowering and a life-long venture. We believe that this positive attitude equips them well to face the many future changes in working conditions and opportunities.
LEARN MORE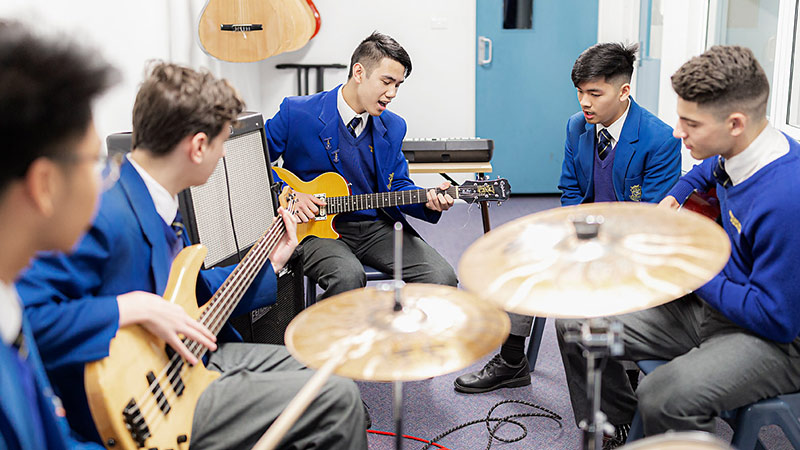 Co-curricular
Boys need exposure to a wide range of activities which demand active involvement. At Patrician Brothers' Blacktown, we offer co-curricular opportunities for boys in which they can develop their particular talents and interests including:
Music
Outdoor Education
Lifesaving
Debating and Public Speaking
LEARN MORE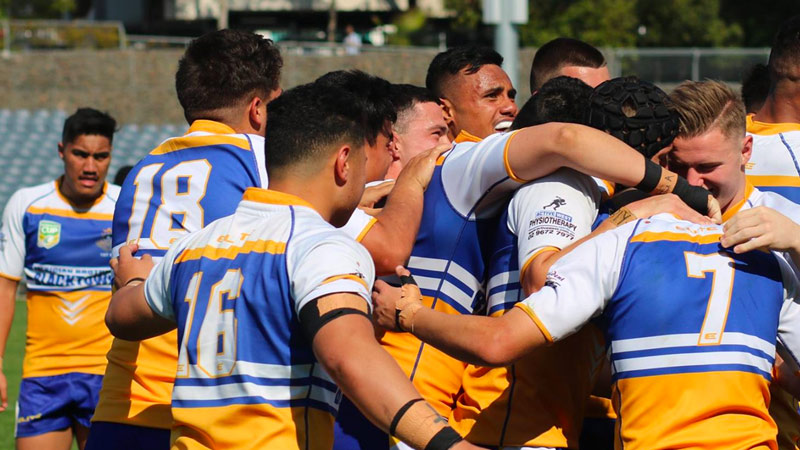 School Sport
A wide choice of organised sports is offered to all boys on Thursday afternoons.
Students who have special skills may represent the College in the highly competitive MCS competition in a range of sports. We have a long and distinguished record of success in many sports. Our teams are well known and respected for their discipline and fair play. As well as team sports, students are able to enter sports which demand individual excellence such as athletics, swimming, golf, cross-country running and tennis. We have enjoyed success in all of these sports in recent times.
Some elite athletes have been chosen for Combined Catholic Colleges and then proceeded on to State and even National representative teams.
LEARN MORE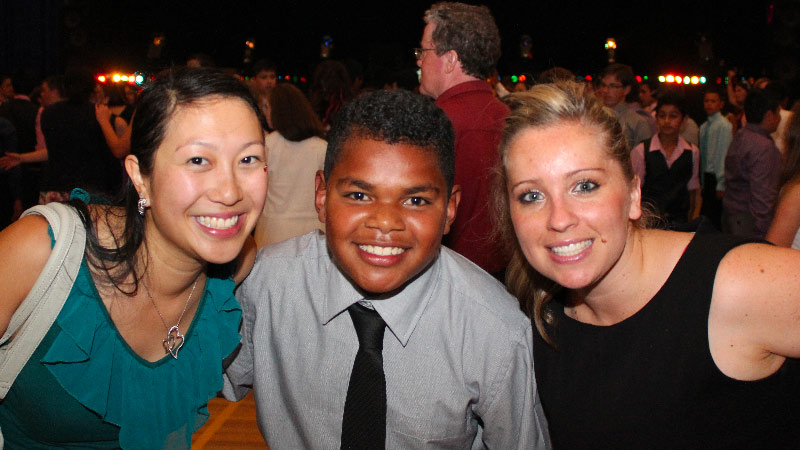 Socials
Students are taught a variety of old-time dances in their regular PDHPE programme. On these nights there is a mixture of the more traditional dances as well as some sets of rock and new dance music. It is a thrill for parents who arrive at the end of the evening to see their sons expertly dancing with their partner to the Jazz Waltz, the Pride of Erin, the Canadian Three Step and the like.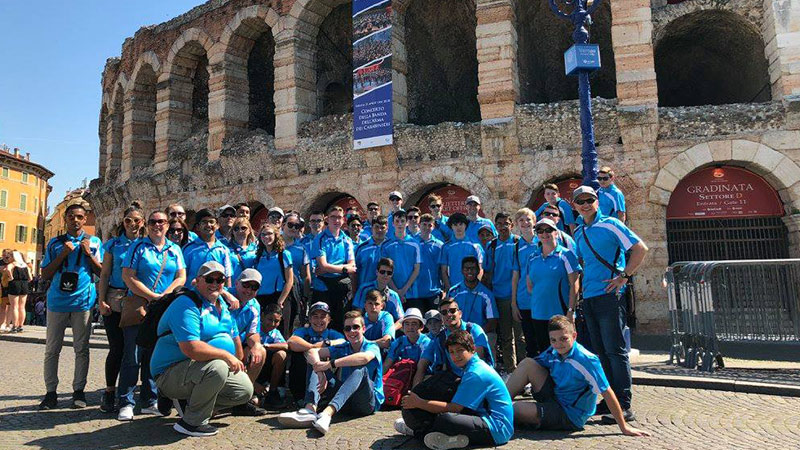 Overseas Trips
Boys love the great Australian outdoors and we run an Outdoor Education Program in Years 7 which prepares students for the particular challenges of the Australian bush. Students 'rough it' on a three day camp in Year 7 learning how to cook and survive in the bush. They take part in activities such as bushwalking, orienteering, camouflage, high ropes course and kayaking.
Expeditions to the Snowy Mountains, Blue Mountains, Fraser Island and to the south west wilderness of Tasmania and Kakadu have been undertaken. Overseas trips to Italy, France and Ireland/UK have further broadened our students' horizons.